Bicycles My Peugoet 531 Pro bike
Peugeot 531 Pro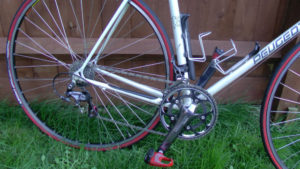 One of the best bikes I've ever had. of course this vintage bike has had a few upgrades in the last few months to bring the 20 years old bike back into the modern era. Although the bike was not to shabby to start with as the equipment ws Shimano 105 to start with. However with the downtube shifters made the 7 speed rear and double front shifters, not as easy to use as the mordern day flight deck shifters.
As I said the original package was not that bad. The frame is pretty lightweight to start with as the 531 Reynolds tubing in it's day gave a nice feel to the bike. The mavric  black wheels were also light for the time. Fitted with Shimano 105 hubs to begin with, I have now just changed the 7 speed hub and cassette for an 8 speed hub and cassette.

Shimano 105 to Ultegra
The rear  105 derailler has been ditched, well I say ditched, I mean sold on eBay for half the money I paid for the Shimano Ultegra 6800 that now bounces the chain happily about the cogs as I shift one of the Shimano Claris levers on the Deda DH2 handlebars.
To fit the Claris shifters to the new Deda oversize handlebars meant getting rid of the old Peugeot quill set up and  add a Quill to A-head adapter and stick a 90mm stem onto the bike. The improvement in riding position and handlebar control made the conversion well worth it.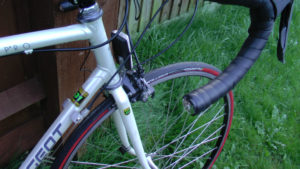 The front derailluer has seen an upgrade too with the old 105 which had a longer throw and heavier spring, being replaced with the newer designed Shimano Ultergra 6800 series. Not only are the shifts alot quicker, but the colouring of this groupset enhances the bikes look too.
Front Chain Set
Carrying on with the Ultegra theme, the front chainset and bottom bracked was replaced from the Shimano 105 52/42, to a compact Ultegra 50/34 hollowtech design. The change in the bottom bracket alone makes the peddling experience much smoother and easier.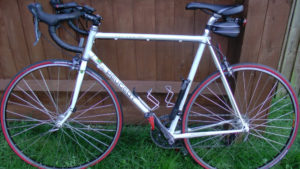 Brakes Ultegra 6800
The brakes were then upgraded from the 105 champaine colour to the Ultegra 6800, not only for the supposedly better stopping power, but also if i'm honest for the astetics looks of the bike.
Tyres
The thing that is super inportant is the contact between you and the road. The tyre chosen in this case was the Michelin Power Endurance as is claimed to give a better rolling road resistance with 20% less resistance than it's predisessor the Mitcelin Pro 4. Also the red colour definitly brings the bike alive with the old carbon pro look pedals. All in all in my opinion a good package on an old but great bike.