The Icon Raleigh Chopper Bicycle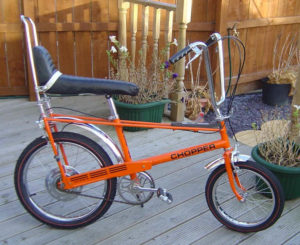 Chopper Mk1
The Raleigh Chopper was designed as a kids bicycle sold in the 1970s by the Raleigh Bicycle Company of Nottingham, England. Its unique design became an icon in bikes and is fondly remembered by many who grew up in that period. It was said that the chopper is Influenced by dragsters, motorbikes, beach buggys, and even Chariots, which can be seen in the 1969 Raleigh US catalog on the centre page.
The Chopper was introduced at American trade shows in January 1969 but it was not until April 1969 when Raleigh Choppers were available for public to purchase. You could buy the bike in a choice of a single-speed coaster hub, or a 3-speed or 5-speed Sturmey Archer gear hub, selected using a frame-mounted console gear lever.
Chopper MK2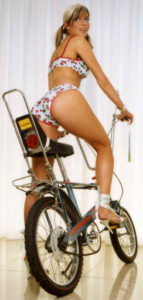 The Mark 2 Chopper was an improved version from 1972. The more expensive version also had an option of five-speed derailleur gears. The gear lever shifter changed from a knob to a T-bar-style shifter. The frame had some subtly revised, and the seat moved forward, to help prevent the front of the bicycle tipping up. A small rear rack was added. Welding the handlebars to the stem to stop people from inclining the "ape hanger" bars backward, thereby rendering the bicycle almost unsteerable.
Raleigh Chopper Sprint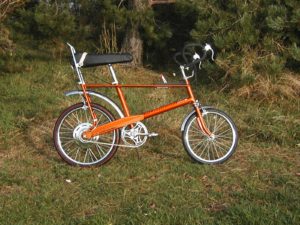 A drop-handlebar version, the Sprint, was also produced, this differed from the standard Mk 2, as it had a slightly taller frame. It came about from Alan Oakley, co-creator of the whole Raleigh Chopper range of bikes, once said that he and his team always listened to feedback from their franchised Raleigh dealers. This was to lead directly to one of the most ungainly incarnations of the Chopper range ever. The Chopper Sprint.
Advertisment